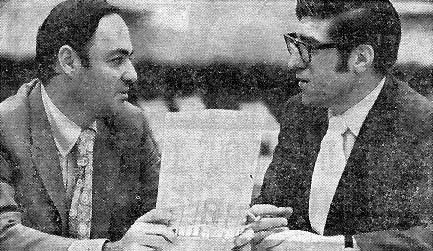 Shayne and Sherris chat before an
Annual Meeting in Garden City

LI - Born Title Company Thrives on Local Touch
July 10, 1970
By Francis Wood
Newsday Long Island Business Editor
Garden City -- There's no stampede of companies into the business of insuring property these days, particularly with real estate in a mortgage squeeze. But for one Long Island title company that is a newcomer to the scene, and the first one chartered by the state in more than 30 years, success has come in a rather brief period.
Northeastern Title Guaranty Corp., first licensed by state insurance officials in 1968, is a cornpany formed by Long Islanders in law and real estate who wanted to build a firm with strong local character They were disturbed by the fact that many or the Island's old title companies had been acquired by larger, outside firms, eliminating to some extent, the friendly neighborhood touch for lawyers arid realtors.
Northeastern Title, the major subsidiary of NETGO Ltd., a publicly held firm, was processing more than 80 title insurance applications per month within a few months, boosted that to 120 per month last yearn and has been averaging about 200 each month in 1970. In addition, it has opened branch offices in Brooklyn and Rochester, N.Y., and plans to open a third office in Buffalo soon. It employees 21 persons.
"To start any business from the pencils up, particularly insurance, is unique," Theodore P. Sherris, executive vice president, said. "Last year, our first full year in business, we wrote more than $58,000,000 in title insurance. In the first quarter of 1970, we've written $10,900,000 and our Brooklyn office, which opened in January, is already doing 10 per cent of the business in that area."
This growth, Sherris pointed out, has been achieved at a time when the real estate industry is off as much as 50 per cent. Northeastern Title has felt some pinch from the housing decline but has managed to boost its volume with added commercial business and an expansion of services to other areas. For Neil T. Shayne, president and chairman of the company, a good part of the firm's success has come from catering to the Island's young lawyers and getting involved in the business community. Shayne, is a prominent lawyer who has been active in county politics, and Sherris, also an attorney, headed the Nassau County Bar Association's real estate committee.
Northeastern's expansion has been accomplished, in part, by acquiring title examination offices and incorporating them into title firm's operation. Future growth will be achieved with offices in Suffolk and Queens, Sherris said, to compete seriously with the dozen or so title companies in the state. "I can see us moving ahead of several of them," he added.